Point Blank Teams with whynow for New Student-led Radio Show Residency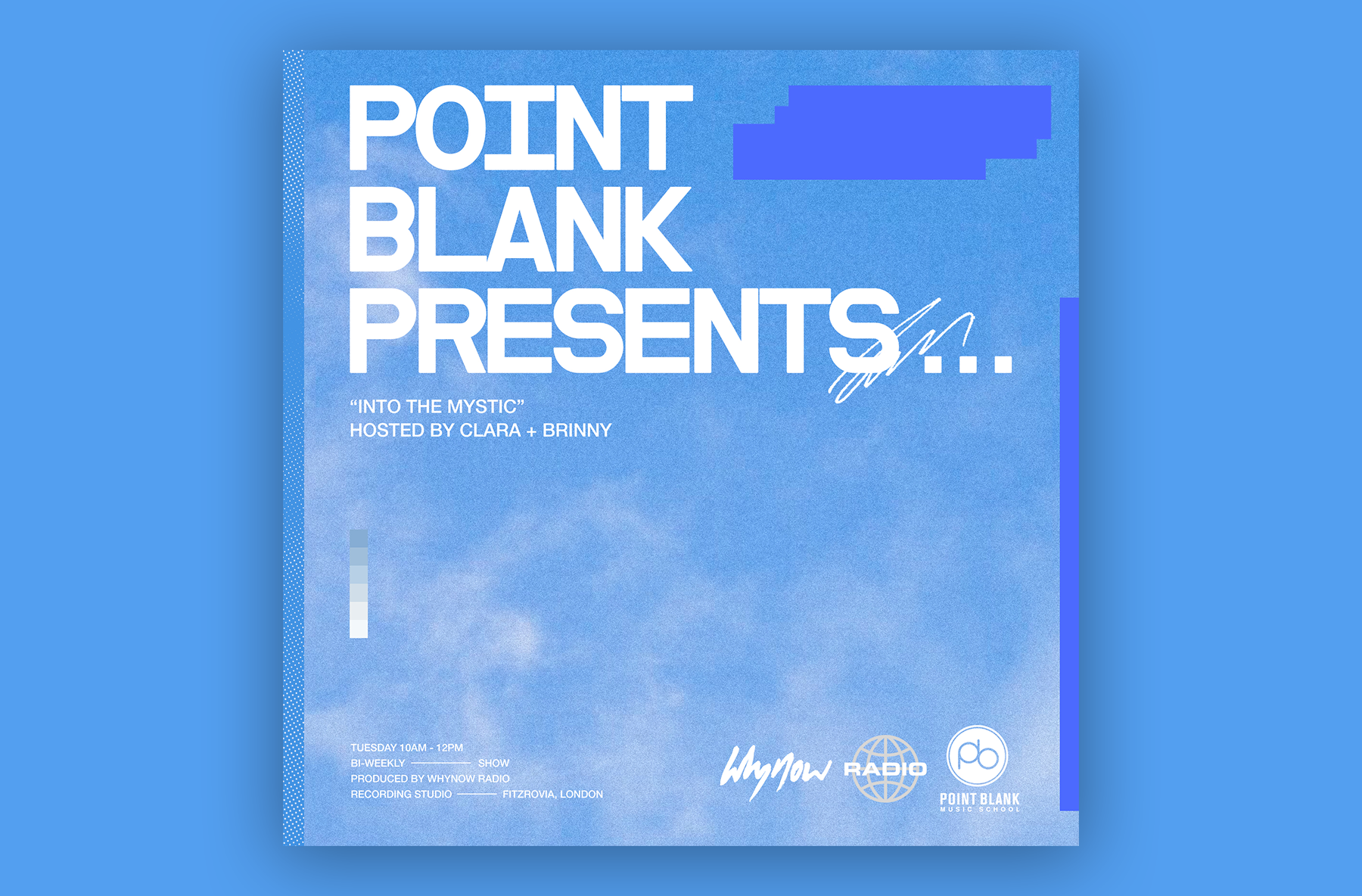 https://plus.pointblankmusicschool.com
We're excited to announce that Point Blank has partnered with whynow, a London-based radio station and creative platform, to host a brand new student-led radio show, Point Blank Presents.
The new series, which kicked off earlier this week, will take place every other Tuesday from 10 am – 12 pm and feature Point Blank students live from central London hosting and producing. When tuning in to Point Blank Presents, you can expect the latest from Point Blank Recordings, Point Blank artist spotlights, stellar track selections, original features and thought-provoking interviews. Each week will see a different group of students take the reins, creating a diverse wealth of industry topics, tracks and thoughts. You can listen back to the first episode with Clara Kavanagh, Bryony Clark and Jack McMillan here and follow on below to hear from the students themselves about their experience live on air.
"My name is Clara and I presented "Into The Mystic" with Brinny. Having never actually met, Brinny and I bonded over a love of crystals, tarots and spirituality during a Zoom meeting. We headhunted Jack almost immediately and started to plan the show. We worked really well as a team, in preparation and on the day. It was such a rush doing a live show in the studio (instead of at home and under a duvet!) I usually present and produce alone so it was great to have Brinny and Jack there to bounce ideas off and brainstorm with. I also looked after the music for the show, building the playlist and editing the tracks for broadcast. The two hours flowed and flew, felt like we were in there for a few minutes! I can't wait to go back for round two! On a total whoosh now."
"We were really well looked after and there were zero complications. They set Jack up on the desks and talked us through everything – it was super smooth. I think Clara and I just felt really comfortable, even with a countdown and timings to adhere to. There was never a point where I felt I couldn't be myself or couldn't have fun with the show. It was an absolute blast. I feel high as a kite now it's over and I can't wait to go back and do it all over again!"
"Hello, I'm Jack and I was the producer of the show. After a busy week of balancing schedules, WhatsApp voice notes and zoom meetings we were able to piece together our plan for the show. In preparation, we found a fellow student to interview which we pre-recorded and then included the tracks she was talking about. We decided to put in a mini mix playing tracks from a former Point Blank student who has gone on to bigger things. We also created some audio IDs and jingles to play between links and music.
Whilst in the studio recording the show, Clara and Brinny discussed the content for links whilst I controlled the desk. We would catch up when songs were playing to work out how much time they would have to chat and if we would have to cut certain tracks short.
We also did a live Tarot reading on myself which thankfully was all rather positive. Very happy I wasn't told I was going to die soon live on air!
After a week of nerves, stress and sleepless nights in anticipation, the show seemed to flow very smoothly and although we hadn't met in person before, the team came together well and we were all on the same page – especially Brinny and Clara who spoke to each other like they had known each other their whole life.
I think we managed to hit the right vibe for the time of day and I am dying to do more."
In addition to Point Blank Presents, we recently launched a new podcast series, Point Blank Stories. Point Blank Stories is another student-led initiative run by the young creatives of the Radio Broadcasting course and gives a glimpse into their journey at Point Blank Music School – so be sure to have a listen if you're aspiring to join the Point Blank family. Our cohort is full of amazing artists from around the world starting their journey and developing their skills, collaborating and making great music. All this talent is on our doorstep – or rather in the classroom next door.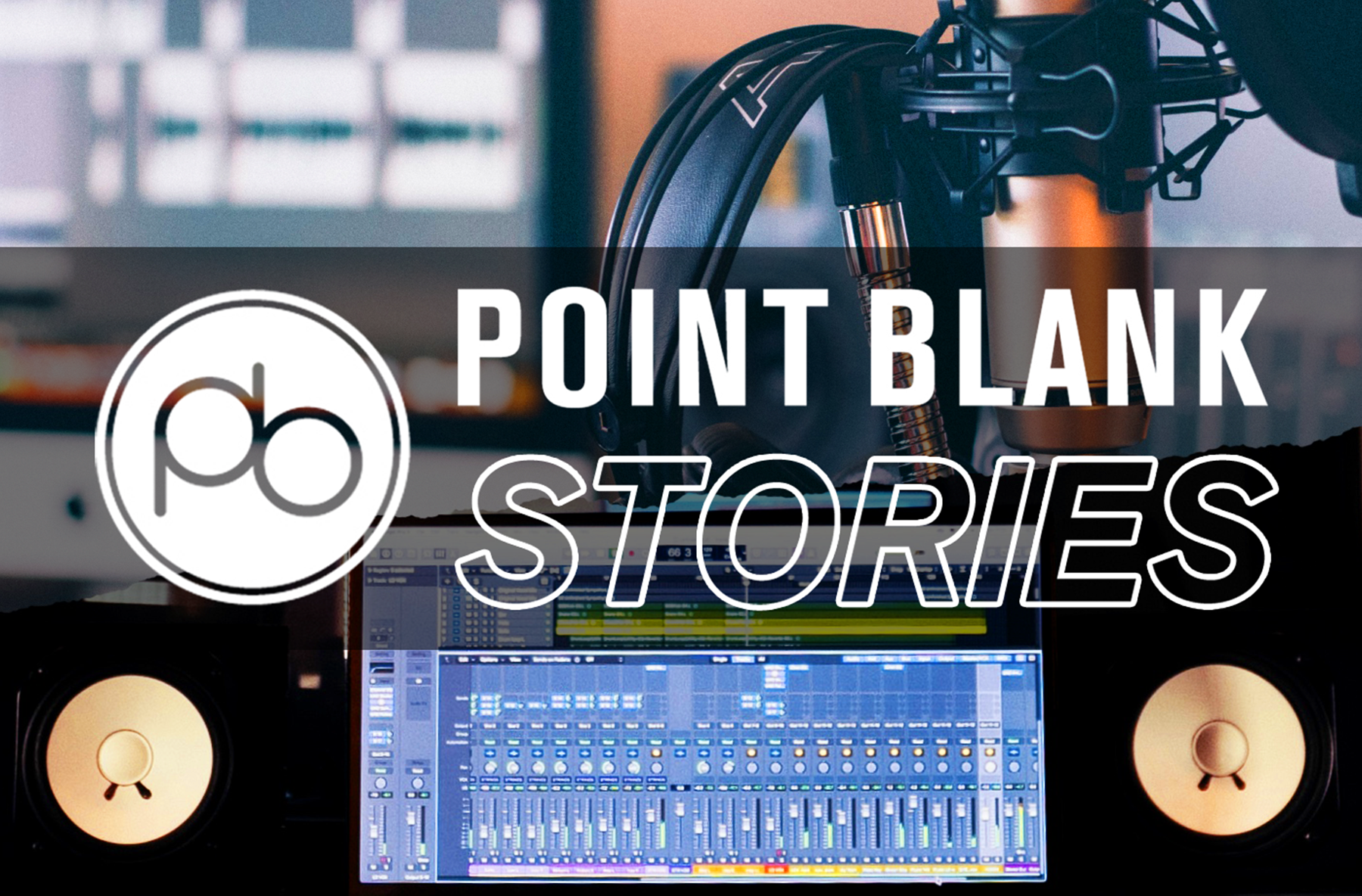 Series 1 of Point Blank Stories has officially wrapped and can be listened back to here but don't worry, the second series is well underway and will be available soon.
If you'd like to get involved with real-world industry projects much like this one or learn the ins and outs of radio broadcasting, music production and sound engineering, music business and more, don't hesitate to check out Point Blank's courses. Plus, we're currently offering 25% off our selected London, Online and Los Angeles courses until 17th May using the codes LONDON25, ONLINE25 and LA25 – so there's no better time to sign up than now.
Register to Access Free Courses, Plugins, Projects, Samples & More
When you register with Point Blank, you access an array of free sounds, plugins, online course samples and much more! Simply register below and visit our Free Stuff page to get your hands on a range of exclusive music-making tools and tutorials provided by the team. Fill your boots!
The post Point Blank Teams with whynow for New Student-led Radio Show Residency appeared first on Point Blank's Online Magazine.
This is a syndicated post. To read more, click the source link above.