The 15 Best iOS Synths and Sequencers of 2018!
It's an exciting time to be a music producer, as there are now hundreds of applications for mobile devices that allow producers to finally work on the move. Click here to check out 15 of the best synth apps and sequencers available for iOS!
https://cymatics.fm/blogs/production
There are now hundreds of applications on mobile devices, allowing producers to finally work on the move!
This means that creating that perfect synth patch and jotting down ideas for tracks can now be done anywhere and at anytime.
Of these applications, some of the most innovative ones are synthesizer and sequencer applications.
For example, the
808
-like drum sequencers app has evolved into robust synths and sequencers that measure up to other common tools.
And the things is, these apps are actually much cheaper than their common counterparts.
Not to mention, it's actually inspiring to work with something new! An interesting synthesizer app can bring the producer out of their comfort zone and help them to come up with new ideas.
Many of these synthesizer applications also work great in a live performance setting. More and more electronic musicians are looking to incorporate live elements into a typical DJ set. So, working with an iPad or other tablet can make a great addition to a show.
And the good news is, these applications can also be easily be integrated with a DAW-based setup using an audio or MIDI interface. This means that anytime you start to work on something on your phone or tablet, you can finish it off on your computer or vice versa.
Which interface you choose will depend on whether you want to record audio, MIDI, or both into your DAW.
iConnectivity makes some great interfaces that offer direct audio and MIDI connections with iOS devices, like the
iConnectAUDIO
 and the
iConnectMIDI
. KORG's
plugKEY
 is a good option as well.
An interface like IK Multimedia's
iRig MIDI 2
 or the KORG plugKEY can also be used to send MIDI to a mobile device, allowing the use of a MIDI controller to play a synth app.
Now the only question left is, which synthesizer or sequencer app should you get?
Well, don't worry! In this article, we'll cover some of the best synthesizer and sequencer apps in 2018. Let's take a look!
It's worth mentioning that these apps are best utilized on a tablet rather than a phone. The added screen real estate will allow for easier manipulation of the controls and a better workflow. It's possible to use most of these on a phone, but the larger screen will definitely help.
Synthesizers
1. BeepStreet Sunrizer [10 USD] / BeepStreet SunrizerXS for iPhone [3 USD]
Sunrizer is a powerful subtractive synthesizer made by BeepStreet. This synth has two analog-modeled oscillators capable of outputting standard waveforms (saw, PWM pulse, triangle, and SuperSaw).
The SuperSaw emulates the classic saw sound of the Roland JP-8000 synthesizer, giving users access to sounds used by the likes of David Bowie and Tiesto.
The synth app also has two independent filters per voice, assignable LFO's and envelope generators, and global modulation wheel control (called the Morph Group function), all giving the user the depth of controls one would expect from a standard software synth.
Next up is Waldorf's impressive Nave wavetable synthesizer. Many of you may be familiar with wavetable synthesis (Native Instrument's Massive and xFer's Serum are popular wavetable synths), but Nave offers some unique functionality not found in similar synthesizers.
Users are able to create and edit waveforms in a streamlined manner using a series of 3D models. These waveforms can be derived from any of Nave's 500+ presets or even by analyzing audio files.
These waveshapes can be warped in a variety of ways, allowing the user to create unique sounds unavailable to most synths.
Nave even comes with a speech synthesis feature, in which the synth accents formants to replicate the sound of a human voice. This is a great place to start when creating new waveshapes to edit.
And after creating an interesting waveform, the user can take advantage of Nave's filters, drive section, and modulation options to further edit the sound and automate parameters.
The synth can even be played in "Blade" mode, a replacement of the standard keyboard that allows polyphonic modulation by sliding fingers on the screen.
Many iOS synthesizers emulate classic analog synthesizers, literally putting legendary sounds under your fingertips. Arturia's iMini emulates Moog's 1971
MiniMoog Model D
, one of the most famous synthesizers of all time.
iMini features the MiniMoog's recognizable interface, along with its oscillators and filters. Arturia went a step further to add functionality to this classic synth, including polyphonic capabilities, XY pads for parameter modulation, and a robust arpeggiator.
The synth can also be synchronized with other iOS devices, allows patch sharing through iTunes, is compatible with the
Mini V
 soft synth, and functions in Retronym's
Tabletop
 environment for music creation on the iPad.
While the MiniMoog sound is difficult to perfectly replicate, iMini does a great job at this. And given the MiniMoog's retail price of $3,749, the affordable iMini is a terrific option for anyone interested in adding the classic Moog sound to their arsenal.
4. Tenacious Frog TF7 [free w/ in-app purchases, up to 16 USD]
The TF7 is a powerful FM synth, allowing the wide variety of sounds possible through FM synthesis. There are seven available algorithms, each allowing full manipulation of each component (oscillators, envelope generators, LFO's, amplifiers, etc.)
The synth comes with 10 effects, including reverb, delay, chorus, and even a pitch-shift delay. These effects can be controlled using an XY pad or sliders.
TF7 also utilizes a unique in-key playing method. Instead of a standard piano keyboard, the synth can be played with a set of pads. These pads can be set to a variety of scale types (major, minor, phrygian, etc.) rooted on any note.
This allows the user to play in key regardless of the pad played, making performance easier and idea creation quick.
For more experienced synthesists interested in
modular synthesis
, Audulus 3 is the perfect iOS choice. This app puts a modern spin on the classic methods of modular synthesis, allowing for extensive control.
Audulus serves as a workspace in which the user can insert and connect a variety of components (called nodes) to create various synths and devices from the ground up. All parameters can be modulated and manipulated with MIDI input from a controller.
The sleek interface and high sound quality make the workflow enjoyable and streamlined. This app can pose quite a learning curve to those unfamiliar with modular synthesis, but its manageable price-point and ease of use make it worth diving into.
The synth titan, Moog, has also made their mark on iOS synthesizers, notably with their creation of the Animoog synth. It's one of the oldest iOS synths, but still holds a place as one of the most unique and impressive on the market.
Powered by Moog's "Anisotropic Synth Engine", Animoog is able to create evolving patches that react to the user's finger movement on the screen. It features various "timbres", waveforms sampled from classic Moog oscillators.
Animoog also has in-key performance, the classic Moog filters, and contains fully adjustable envelope generators and effects, modulated with an XY pad.
Like they did with their early synthesizers, Moog continues to innovate in the iOS realm with this powerful app.
The iDS-10 is another example of a classic synth emulation (this time of KORG's 1978
MS-10
), of course coming with some new bells and whistles.
Defined as a "portable synthesis studio", KORG's deep app has two analog synthesizers, a speech synthesizer, and an analog drum machine. All of these tools, in tandem with the iDS-10's pattern function, allow for full track creation within the app itself.
Each analog synth in the device contains standard components like oscillators, filters, and envelope generators. One of five different effects can also be applied to each synth independently.
The speech synthesizer, based on KORG's
VC-10 vocoder
, allows the user even more possibilities when working. Words can be typed out for the speech synth to play back, or the user can use the microphone input to use the iDS-10 as a typical vocoder.
Pitch, timbre, and the five effects can also be applied to the Voice section.
The analog drum synth contains six drum sounds: kick, snare, two hi-hats, tom, and percussion. These drum sounds are synthesized, so they can be fully tweaked and tuned as desired.
The iDS-10 allows input through either a "smart keyboard" (a piano keyboard with in-key mode) or KAOSS mode, generating in-key phrases in response to gestures on an XY pad.
The app also has an onboard mixer, giving the user the ability to fine-tune the balance of the elements and work on full track ideas uninterrupted.
Lastly, iDS-10 features pattern play capabilities. By either recording or inputting notes on an onboard sequencer, up to 32 patterns can be created. The user is also able to switch between patterns on the fly, lending the app nicely to live performance.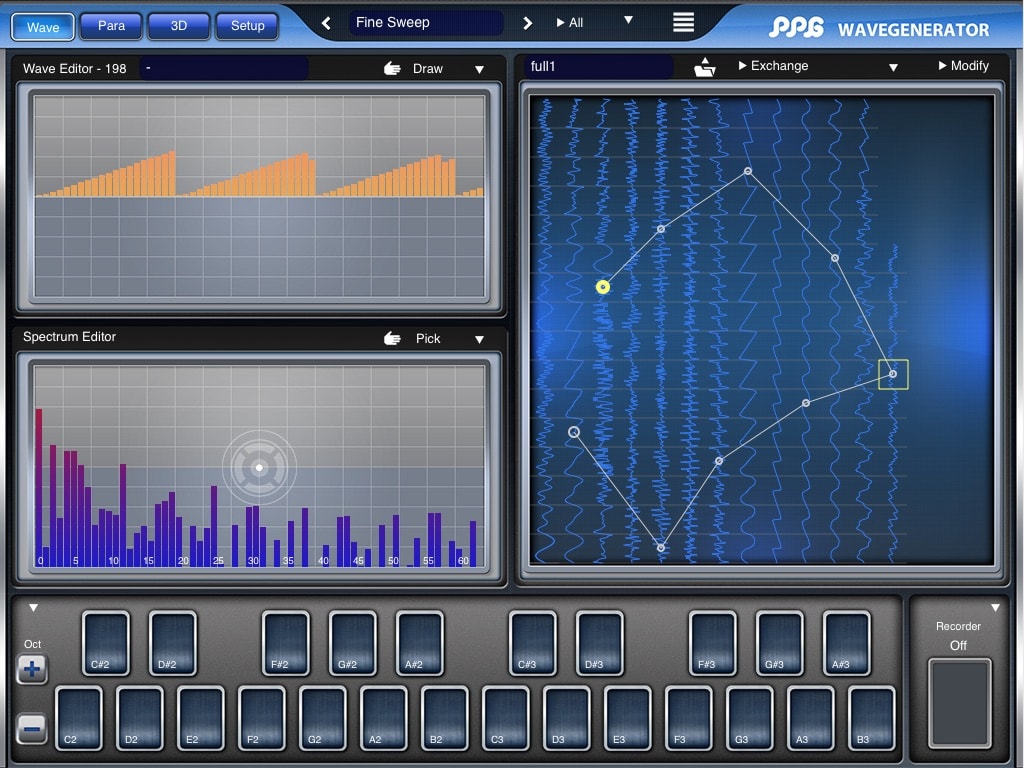 WaveGenerator is a unique wavetable synth created by Wolfgang Palm, the inventor of wavetable synthesis.
In addition to using the various waveshapes that come with the synth, users can create new waveforms by manually drawing in harmonics. The synth is even able to analyze a picture to create a new unique waveshape.
The created wavetables are represented in the "wave grid". The synth can play through up to 256 waves on the grid in any order, allowing modulation of the sound over time.
These wavetables can be played with three independent oscillators, each of which can have its own waveshape, pitch, and glide information. Various parameters and effects are controllable with 13 envelope generators and four LFO's.
They keyboard offers in-key playing, as well as the creation of new keys set by the user. The synth also has a feature called the "Arptor", a combination of an onboard step-sequencer and arpeggiator.
Described as a "resonator synthesizer", iceGear's Laplace is a physical-modeling synthesizer. This means that it uses synthesis to recreate the timbres of physical instruments, specifically bowed and plucked strings, blown pipe, and metallic sounds.
This is done through resonator synthesis, in which an exciter (which creates the transient sound of plucking a string, for example) triggers a resonator (which gives a sense of pitch and timbre).
Both the exciter and resonator are extremely customizable, allowing for the creation of a myriad of realistic and organic sounds.
There is an available LFO for modulation, vibrato control, an in-depth arpeggiator, and an effects group containing chorus, delay, and reverb.
Laplace also works with both Inter-App Audio and Audiobus, allow the synth to stream live audio to compatible applications.
Rounding off our synthesizers section is Impaktor, a drum synthesizer also based on resonator synthesis. Instead of synthesizing the exciter, however, Impaktor uses the microphone input of the iOS device, allowing the user to play any surface as a drum to create various sounds.
The synth comes with over 90 preset drum and percussion sounds, each of which having adjustable resonators, filters, effects, and modulation. It has two modules, each of which can be routed as desired.
Impaktor also acts as a loop recorder, featuring auto-quantization. This makes it great for quickly jotting down rhythmic ideas or for incorporating into a performance.
Sequencers
It's worth mentioning that several common DAWs have well-made mobile apps. These can be used as your main mobile sequencer, and are easy to digest if you're already working with the desktop version of that DAW.
Other apps offer the ability to remotely control certain parameters and settings in the desktop version, but don't function as standalone sequencers.
We won't be focusing on these types of apps, but feel free to check out these mobile versions of some DAWs:
Cubasis - derived from Cubase ($50)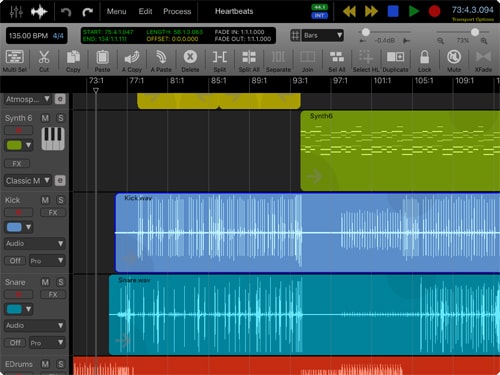 If you're not interested in getting the mobile version of your favorite DAW, Auria should be a serious consideration. It functions as a DAW itself, with the the Pro version offering the functionality you'd expect from one.
MIDI sequencing in Auria is robust. The app allows unlimited tracks and MIDI can be input using a MIDI controller or iOS instruments. This MIDI data can be quantized and edited using various MIDI processes. Tempo and time signature changes can also be drawn in.
Auria's piano roll also offers easy note adjustment using various gestures on the touchscreen. Rapid draw mode can be activated for quick note entry. Velocity and other controller data can be adjusted with gestures and the control point system respectively.
The app also handles audio quite nicely, allowing the creation of audio tracks too. 24-input audio recording is supported, with audio editing and warping being possible with the élastique Pro v3 audio warping engine.
Audio can be quantized using transient analysis and waveforms can be edited with just a couple taps of the screen.
WaveMachine Labs' mobile DAW also features an expansive mixer, which offers eight subgroups, 6 aux sends, and 32 possible buses. All controls can be automated.
Unfortunately, only four plugins can be inserted on each channel, but this is still impressive considering that we're dealing with a mobile app.
Auria even comes with some plugins to get started with. Everything from synthesizers (including two from FabFilter) to samplers to delays to convolution reverbs come ready to go in the application.
Third-party plugins (including the likes of the FabFilter series of audio FX: Pro-Q 2, Pro-C, Pro-L, etc.) are available through in-app purchases, which range from $10-$40. If you're going to be spending a good amount of time in Auria, these may seriously be worth picking up.
This deep production environment even contains some helpful features commonly found in the most standard DAWs.
Groove quantization and extraction (similar to
Ableton's grooves
) are applicable to both MIDI and audio tracks, audio tracks can be rendered into MIDI tracks, channels can be frozen and bounced-in-place, project templates can be saved, and video synchronization is supported.
KORG's Gadget is another great choice for a mobile sequencer. It focuses mostly on "gadgets", a variety of sound sources that can be easily added to the production environment like new tracks.
These gadgets include synthesizers of various types, drum machines, samplers, and many more. There are about 15 gadgets available in the standard version, with additional ones available through in-app purchases between $10-$15 each.
Through MIDI input (using one of KORG's well-integrated MIDI controllers, for example) or the piano roll, the user can create clips for each gadget, layering them together into a full track. These clips can be played in various orders.
Audio tracks are also available in Gadget, with two specific audio track gadgets pulling the weight. "Zurich" is a standard tool for recording non-guitar elements, while "Rosario" has effects and amplifiers to optimize it for guitar use.
Gadget contains a straightforward mixer section with the standard expected controls for each track. Up to five insert effects can be used per channel, and there is a separate limiter and reverb for the master channel.
KORG's "mobile music studio" has various sharing capabilities too. The desktop and mobile versions can be synchronized simply to bring work from mobile into your computer.
This is also quite easy for Ableton Live users, as Gadget projects can be exported directly as Ableton project files, ready for use in Live.
Gadget has a bit of a social element to it as well. Projects can be uploaded to
Allihoopa
, where you and others can download projects to work on them.
They can also be uploaded to "GadgetCloud", where tracks can be submitted for selection in KORG's recommended section, success in contests, and in order to climb the leaderboard.
All-in-all, Gadget is an interesting concept for an iOS sequencer, and is worth checking out if you're in the market for one.
Up next is yet another all-in-one DAW-style mobile workstation, BeatMaker 3. As the name would suggest, it's a bit more beat-oriented than other DAWs, but still offers the functionality of a typical DAW.
BeatMaker 3 allows for the creation of unlimited instrument, audio, and FX tracks. Each of these can be populated with a device, which is contained in a "pad bank". These banks serve as channels in the timeline-based sequencer view.
The app is able to receive MIDI information from controllers, with MIDI notes being editable through a piano roll view. Automation is also available for most parameters.
MIDI instruments can consist of drum machines, which offer 128 available sample slots. Each slot has its own controllable parameters, like level, pan, filters, envelopes, etc. Each sample can be played with various pad modes, including one-shot, hold, and loop.
A keyboard sampler MIDI instrument can also be created. Again, parameters are fully adjustable, and modulatable with the help of LFO's and envelope generators. The keyboard has a range of 128 notes, with 32-voice polyphony being supported.
Audio tracks are also possible, and highly editable using various finger gestures. Audio can be recorded directly into BeatMaker 3 as well.
There's a dedicated mixer section to balance the mix. Each channel is allowed unlimited insert effects and 4 sends. 14 effects (from EQs to stereo wideners) are included for free with the app.
BeatMaker 3 has Inter-App Audio and Audiobus 3 support, allowing the use of other apps as plugins. The app can also directly open audio files and ZIP archives, as well as share projects through iTunes.
AKAI and Retronyms have teamed up to create iMPC Pro 2, an expansion of the first version which emulated AKAI's legendary MPC drum machine.
This second version functions as a total sequencer, adding recording, timeline-based arrangement, waveform editing, mixing, and much more to an already sound drum machine.
Notes are input and recorded primarily using iMPC Pro 2's classic 4x4 drum pads (4 banks of 16 pads available), which can be used to play drum kits or software instruments. Notes can be quantized and repeat mode is available, allowing the user to hold a pad to trigger repeating hits.
With instruments, mostly the compatible Audio Units accessible through Audio Unit tracks, a keyboard is also available, featuring an in-key mode and two dozen scale options.
Drum and instrument sounds are highly adjustable, with tweakable envelopes and other parameters available for each sound.
iMPC Pro 2 also allows the creation of audio tracks, which can either be populated by audio files or directly recorded into. Time-stretch and pitch-shift are possible, allowing the user to change tempo without the audio's pitch being affected. Advanced waveform editing is also possible.
The app contains a 64-track mixer, in which level, pan, a 3-band EQ, and four FX buses can be adjusted.
As mentioned, iMPC Pro 2 features Audio Unit support, so Audio Units on the iOS device can be loaded into Audio Unit tracks in the Timeline view. The app also has Inter-App Audio connectivity.
AKAI and Retronyms have also included a few bonus features. A daily lesson on making music in the app is available through iMPC University, sounds can be directly sampled from Spotify, and Live Sequence queuing in the Song tab allows useful performance capabilities.
The app comes with an additional five free Sound Packs, allowing you to expand on the packs already available.
15. Xewton Music Studio [15 USD]
Last on our list is Xewton's Music Studio App. This is one of the first DAW-like sequencers created for iOS, but its updates have allowed it to remain a viable option among similar apps.
Much of the work done in Music Studio occurs in the Track Editor, a timeline-based MIDI and audio sequencer. Up to 127 total MIDI and audio channels can be added, and patterns can be looped, repositioned, and copied/pasted with the Bar Editor.
The app comes with 123 studio-recorded sampler instruments, which all allow adjustment of instrument timbres, effects, and amplitude envelopes. 60 more sampler instruments are available through in-app purchases.
Instruments can be played with the on-screen piano keyboard or an external controller running through iOS-compatible interfaces. Drums can be played with on-screen pads, which can also be repurposed as chord preset buttons for easier touchscreen chord playing.
Both the on-screen keyboard and pads are velocity sensitive.
Music Studio allows up to 8-channel recording on iOS. Audio can be manipulated with a standard waveform editor.
There isn't a dedicated mixer as with other iOS sequencers, but all relevant parameters (i.e. level, pan, effects, etc.) can be adjusted through other screens. Nine types of effects are available on an insert, send, and global basis.
The app offers Inter-App Audio support, Audiobus support, CoreMIDI support, and works with all iOS-compatible and class-compliant interfaces. Music Studio can export projects to DAWs, import and export MIDI, and export audio at a good quality. iTunes file sharing is also available.
Conclusion
These are only some of the tools out there that put music-making right under your fingertips. Many apps measure up well to existing synthesizers and sequencers and allow a producer a wider breadth of possibilities when coming up with ideas.
The power, convenience, and affordability of these iOS apps make any of them worth checking out, and many can make a serious impact on your production and/or performances.
Are you dying to try out some of these apps?
Are there any we didn't mention that you've really enjoyed using?
Feel free to let us know in the comments below!
Do you want to get a jump start in Ableton Live?
Download our free Ableton Starter Pack and get level up your production today!
(2 Ableton Project Files & 300 Drum Samples + Loops)
This is a syndicated post. To read more, click the source link above.